MID-YEAR EDUCATIONAL WORKSHOP FOR PRE-CHILDREN AND TEENAGERS: GEOGRAPHY
"Dynamic and engaging learning experiences that promote skill development, problem-solving abilities, and personal growth."

The GFF HELPS Philippines Team has been conducting activities in schools most of the time, and we seldom visit the group of kids in different villages. We made sure that this month, we can visit them at least once. We chose the dates of the holidays because we are sure that the kids are in their houses. The team was divided into two: LP in Laserna Village and Stef and Intern Erica in Ugsod Village. These two villages were located in different towns and were far away from each other. LP conducted activities about waste segregation because most of the kids were in primary school. Stef and Erica distributed worksheets in English subjects because most of the kids were in Elementary School. Every time we visit them, we can see in their eyes how much they miss us. They are always looking forward to the day that we can visit them.
Teaching geography is essential because it equips individuals with the knowledge and skills to understand the world, appreciate its diversity, make informed decisions, and contribute to a more sustainable and interconnected global community. The workshop in geography focuses not just on its meaning but also on exploring, locating, and naming places on the map of the Philippines. They participated in guessing the names of tourist attractions in the country, shared their thoughts about it, and where they wanted to visit in the future. Maps are given to each of the participants. They learned about the different regions of the Philippines and memorized some of them for a short period of time. They answered the given activity where they have to write the names of the different provinces located in each region. They had fun locating places on the map.
MID-YEAR EDUCATIONAL WORKSHOP FOR PRE-CHILDREN AND TEENAGERS: POETRY WRITING
Teaching poem writing is important because it nurtures creativity, improves language skills, fosters emotional intelligence, encourages critical thinking, and allows students to connect with others through meaningful expression. It enriches their personal and academic lives, providing lifelong tools for effective communication and self-discovery. Participants learned what poem writing is all about, the things to consider in writing, and the essence of creating their piece. Most of them said that they have written poems in school without knowing the rules or the guidelines for writing. We let them read and understand some examples of poems, and they wrote their pieces after. Each of them has their themes to which they wanted to dedicate their poems. Most of them expressed gratitude towards their beloved parents, their family, favorite teacher, and friends. Some of them dedicated their piece to their crush, special someone, or their inspiration. No matter what's their theme in writing poems it's limitless just like their various thoughts about poetry.
MID-YEAR EDUCATIONAL WORKSHOP FOR PRE-CHILDREN AND TEENAGERS: SCIENCE EXPERIMENT (VOLCANIC ERUPTION)
This Science Experiment in Muguing Village presents volcanoes through the making of volcano models. This was taught because of the ongoing eruption of one of the active volcanoes in the Philippines, the Mayo Volcano. Together with the 20 children, we had successfully reached the goal of this day which was to learn about volcanoes by making a volcano model.The children will also be fascinated with the eruption aspect of volcanoes wherein, they will be able to observe how the eruption changes the original form of their volcano model.
Why is it important for children to learn this? It is important for children to learn through this activity because most of them have not seen a volcano first hand. Many children may be unfamiliar with what volcanoes are.
What will they take away from this? They will take away the learnings from these experiments as some of them will be learning the experiments in their later years at school. They will get familiar on why and how the volcanoes erupt.

"This is my first time joining in a workshop and I am so proud
that I was able to make a miniature volcano and learn how it erupts, and how it affects the people surrounding it."
MID-YEAR EDUCATIONAL WORKSHOP FOR PRE-CHILDREN AND TEENAGERS: ELEMENTS OF A STORY
Teaching elements of a story to students is crucial for several reasons as it lays the foundation for their understanding and appreciation of literature and communication. It is easy to forget these elements and one may lose appreciation of stories if this happens. We included the Elements of a Story in the Mid-Year Workshop for Teenagers. We first conducted this activity in Muguing Village. The 14 teenagers learned about the three main Elements of a Story, identified the elements in a story, and make their own story with the three elements. They already learned this topic in high school, so they have prior knowledge. They made good stories and read them aloud. We also conducted this activity in GFF HELPS Philippines Office for selected ten teenagers from the town of Banga and Kalibo. Most of them already know the elements and easily identified them in the given stories. The parents of the teenagers send messages to thank us for the learnings.
MID-YEAR EDUCATIONAL WORKSHOP FOR PRE-CHILDREN AND TEENAGERS: LEARNING SIGN LANGUAGE AND NEWSPAPER LABELING
The Philippine Teams achieved the goal of this workshop which was to make the teenagers aware of the language used by our special friends like the deaf-mute individuals. Learning sign language is a bit hard but it could be a great way for the participants to build up connection with the deaf kids/adults whenever they found one.
Lady Peace taught more than 100 basic words in American Sign Language, including self introduction, family, emotions, greetings, and many more. This would help the children expand their social life as they learn how to communicate with the deaf.
Meanwhile, Miss Pia, an invited newswriter, shared her knowledge on newswriting and newspaper labeling to teenagers. They were inspired to become a news writers in the future.
FREE COACHING ON PHILIPPINEs CIVIL SERVICE EXAMINATION
Every Thursday, we have our free coaching to participants for them to pass the national exam and get a stable job in the government in the future. What we always do is to study every area of the exam, divide it between Stef and I and sometimes hire a Guest Coach especially connected to a particular area, like Miss Pia, she is a Biology Graduate and she explains well the Environmental Protection and Issues in the Philippines that is one of the parts of the examination.
Helping our fellow Aklanons to become eligible to work in the Philippine government offices.

READING WORKSHOP
"Enhancing the opportunity of access to library resources."
"Engaging students in authentic reading experiences"
In order for a middle-schooler to be accepted in the university, they have to pass the interview with random questions. The Team conducted an orientation via ZOOM, with 5 students one-on-one, and we throw them a lot of questions that is commonly asked during a school entrance interview. We taught them the proper behavior, proper arranging of thoughts, and techniques in answering interview questions. The 5 participants have passed and the university interview. They surpassed the other 68 aspiring students.
SPORTS PROJECT : CHESS AND SCRABBLE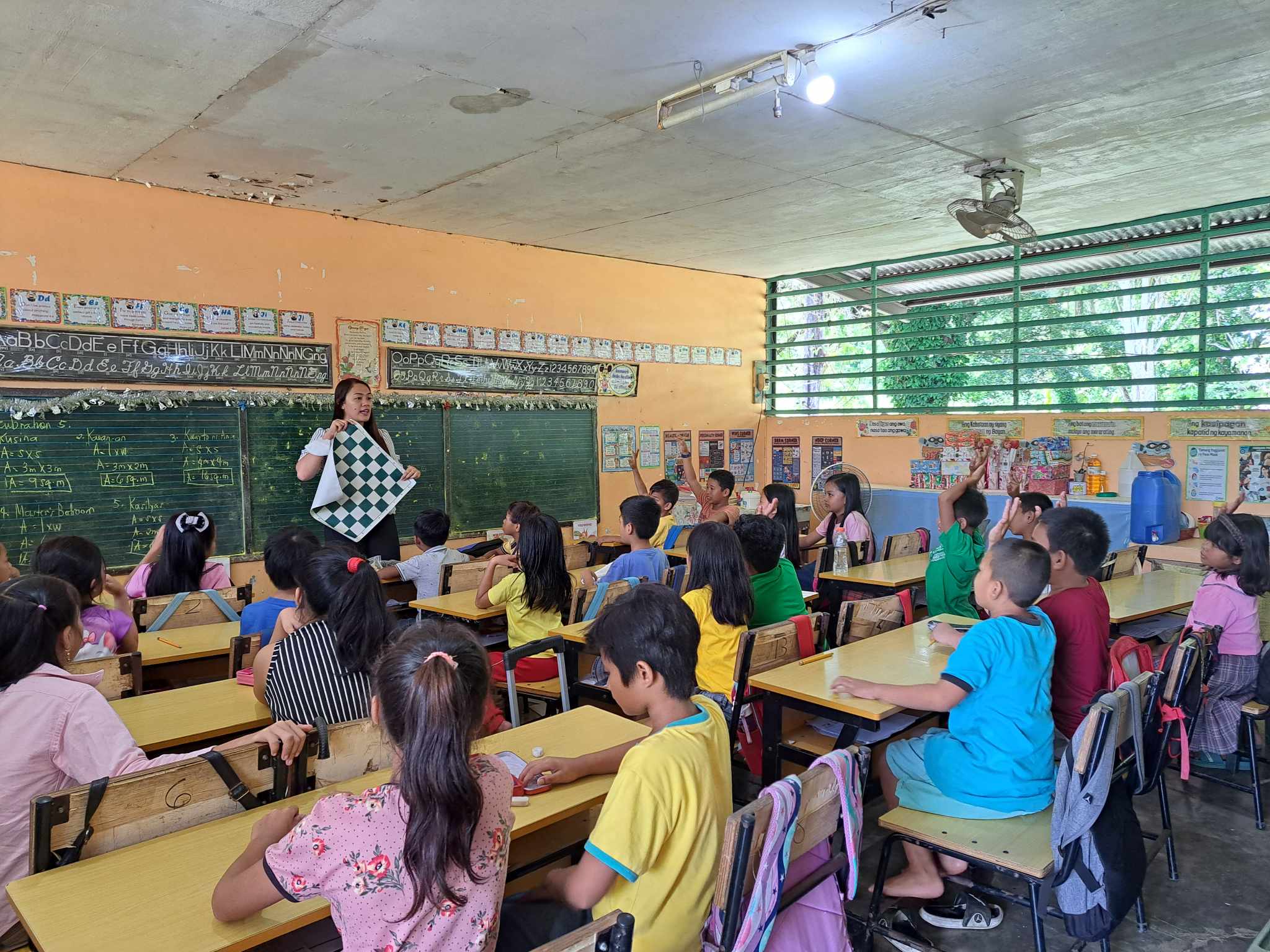 Students in Lapnag Primary School show great progress in playing Scrabble. Every Tuesday, during school days, we regularly visit the school and conduct sports project. We alternately play Chess and Scrabble every week. In the early weeks of the project, students can only make short and basic words. They still don't know how to make use of bonus tiles and how to get high scores. Now, they can already make longer words, make use of bonus tiles, and think of how to make their scores higher. They always get excited to get bonus points and double their scores.
We also introduced Chess in Sigcay Elementary School before the school closed for vacation. They learned about the Chess pieces and the different moves. In Lapnag Primary School, they always play in groups with four to five members. They help each other to make different moves. Some of them still forget the movement of each piece, but we are always there to assist them. These children are becoming quick-witted not only in playing chess but for having tactics on how to move the chess pieces rightly for their advantage and to win the game.