Disaster Awareness Program

On the occasion of World Environment Day, a Disaster Awareness Programme was organised by All India Women's Conference (AIWC) in collaboration with Save the Hills on 5th June at DISHA hall, Kalimpong. All NGO's and community development projects had been invited. Representing GFF helps India, Miss Surabhi Subba attended this programme which started from 10 am in the morning.
It was a very informative and thought-provoking awareness program since the topics of the program was all related to the rising waste disposal problems in Kalimpong and its effects on the land and impending challenges. AIWC General Secretary Mrs. Catherine Lobo, spoke about the mismanagement of waste disposal and explained how by implementing small conscious changes we can produce less waste. Dr. Sang Zimba, health officer of Kalimpong Municipality also spoke about similar issues and introduced the new corn starch biodegradable bag that is to be used instead of plastic bags from July onwards. We got to learn and understand a more on-ground perspective of the disastrous effects of plastic waste.
Environment Day Village Cleanup at Bong

Every year we celebrate World Environment Day (WED) on 5 June in order to encourage and raise awareness and action for the protection of the environment. This year we observed the World Environment Day by holding a village cleanup along with the 8 Self-Help Group (SHG) Members at Bong Village. All of us gathered and started the village cleanup at 1:30 pm in the afternoon. We formed a rally and shouted slogans such "Save Earth Save Lives", to raise environmental consciousness in the village. The rally went through the village and simultaneously everyone was picking up garbage and waste along the way.
This year we wanted to start the environment day by putting effort to care for our existing surroundings, preserving it & keeping it clean. We ended the village cleanup at Sir Owen G Glenn Learning & Information Centre, by cleaning the learning centre and surrounding areas. Great efforts were put in by everyone, and we hope that the message conveyed through this clean up reaches everyone in the village.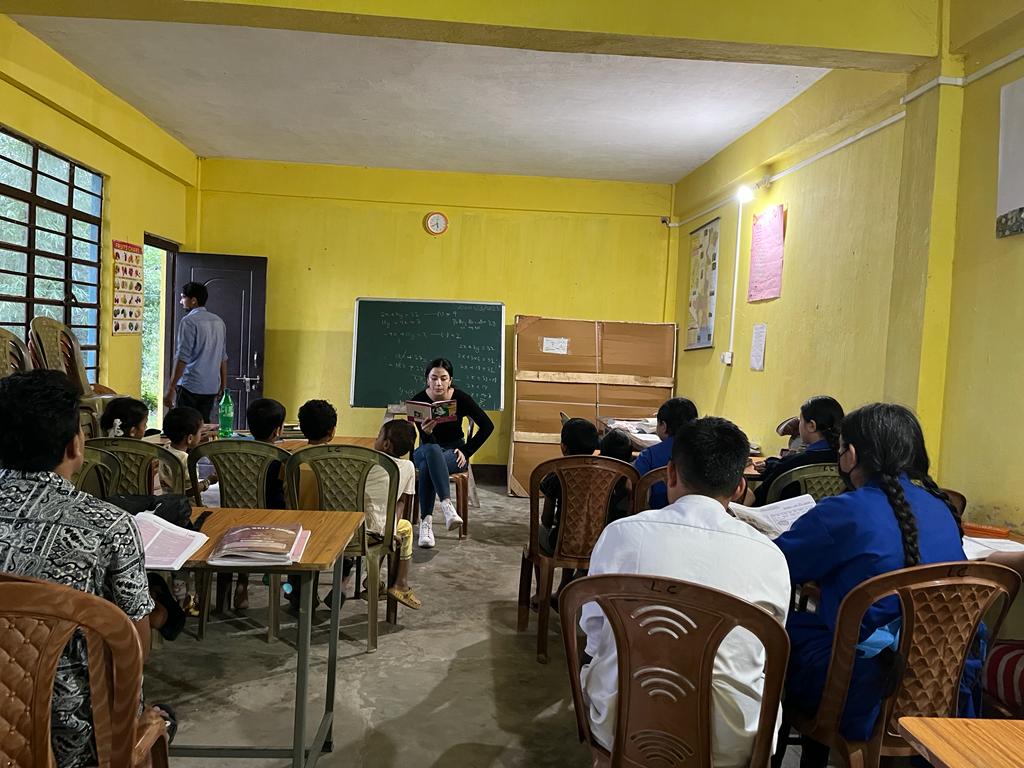 Mobile Library is one of the most important and long running projects of GFF Helps India. This project is carried out in all the three SOGG Learning & Information centres in Pudung. Bong, Chibbo, and in Debanjan Girls Academy. Every month we take a fresh set of books to the centres, since along with school education our aim is also help these children develop habits that will enable them to excel in their professional careers as well.
Miss Surabhi GFF Helps representative conducted the Mobile Library session in Debanian Girls Academy on 3rd June. She then visited Chibbo. Rudung, and Bong SOGG learning centres for Mobile Library on 22nd June, 23rd June and 27th June respectively and was accompanied by our intern Miss Vidisha Pradhan. A small activity was also carried out where the children were given the comics on environmental awareness made by students from all the three centres. They were then asked to explain the message in the comics to rest of the students. Our main objective for using the comics made by the children was to let them know that their drawings, messages in them are being heard and useful in bringing change.
"Reading is to mind what exercise is to body and prayer is to soul!" – Matthew Kelly
Anti-Plastic Drive

Plastic waste is a dangerous environmental issue that needs to be addressed urgently. It creates a large problem for wildlife, their habitat and the quantity and the plastic waste is being produced is unmanageable. Plastic has been so essential in our everyday lives that we are the major contributors of huge lumps of this waste. This Year's Enviornment Day Theme was also "Say no to plastic". Anti – Plastic Drive is an initiative of the Municipality of Kalimpong in collaboration with KANGON (Kalimpong All NGO Network) to make Kalimpong a plastic free place.
From 1st of July onwards single-use plastic is being completely banned in Kalimpong. The drive started at 9:30am in the morning and members of different NGO's along with Municipality Chairman Mr. Ravi Pradhan and other members of municipality went around the shops in Kalimpong, handing them the pamphlet containing the new rules and requesting them to follow it. They were also made aware of the new biodegradable corn starch bags that is to be used. This anti-plastic drive was our collective effort to bring about change and make each other realise to hold ourselves accountable for the waste we create.