Childrens education and their overall development has been a prime goal that GFF Helps has set and have been working towards. Every month GFF Helps India representatives visit the SOGG Learning and Information Centre to conduct Mobile Library sessions. This project has been undertaken and been carried out efficiently for the last three years. This month our newly appointed GFF Helps India Representative, Ms. Surabhi Subba, visited all the three SOGG Learning and Information Centre – Pudung SOGG, Bong SOGG and Chibbo SOGG on 10th, 11th and 12th of May, respectively. A fun activity was held where the students were asked to read the books and relate with the various pictures drawn in the pages to enhance their cognitive abilities. 
Visit To Sadhu Sundar Singh & Rotary Centre for Skill Development- Disha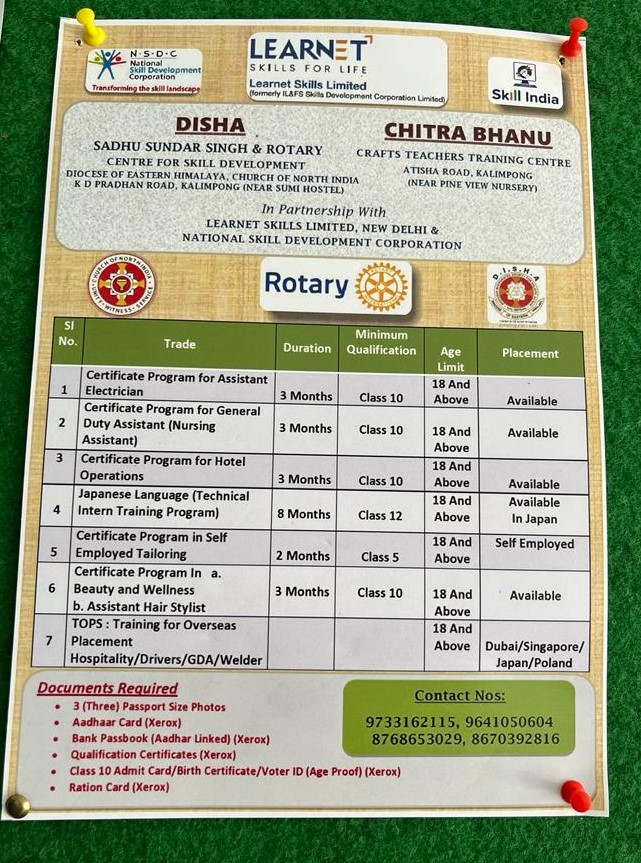 Unemployment has been one of the major problems faced by youths in Kalimpong. After completing their education many students feel directionless with no prospects in their sight to pursue. Sadhu Sundar Singh & Rotary Centre or Skill Development – Disha have been providing various courses with low cost fees to help the youths get enrolled in jobs. GFF Helps Representative Ms. Surabhi Subba, along with Bong SOGG Coordinator Mr. Yugen Lepcha visited the Disha Centre on 18th of May. They met with Mr. Don Fonning, in-charge of the Disha Centre where he explained the various courses (Assistant Electricians, Customer Care Executives, General Duty Nursing Assistant, etc) and their placement schemes. aware about such programmes.
Some courses are also provided by the Centre for free at times, so Mr. Fonning assured that he will contact us when such courses are available. All these information about various courses and current recruitments were shared with the SOGG coordinators and teachers and pamphlets were distributed to help many young people interested in these courses and fields to find employment and gain knowledge about its further scope.
Visit to Indian Postal Department
Newly appointed GFF Helps India Representative, Ms. Surabhi along with Bong SOGG coordinator Mr. Yugen Lepcha made a visit to the Indian Postal Office in Kalimpong. GFF Helps India has collaborated with the Indian Postal Department in the past and hosted workshops on money saving and various saving schemes in Bong village. Therefore, we once again visited the office to discusses and to know about newer updated savings schemes available at present. The Post Master, explained newer schemes available such as the Mahila Sama Saving Certificate which is for financial upliftment of women, the Sukanya Samridhi Yojana for girl child, Kisan Vikas Patrika (KVP) for farmers, Senior Citizen Saving Scheme (SCSS) for senior citizens and many more. All the information of these schemes will be taken and shared with the villagers in hopes that they will avail and reap benefits from it.
Visit to Krishi Vigyan Centre (KVK)
In the upcoming month of June, the entire world celebrates the Environment Day on 5th June. We at GFF Helps are planning to celebrate it by organising "fruit sapling" plantation at the three villages on Bong, Pudung and Chibbo by distributing it to the villagers. When it comes to fruit saplings, we cannot plant whicTherefore Ms. Surabhi from GFF Helps and Mr. Suk Tshering Lepcha, coordinator from Bong SOGG visited the Krishi Bigyan Centre in order to get a better know how about the fruit saplings. KBK centre are spread across India and are associated with a local agricultural university, and serve as links between the Indian Council of Agricultural Research and farmers to apply agricultural research in a practical, localized setting. Dr. Basudev Khadka recommended us which fruits were best suitable to be grown. Mr. AD Thapa suggested us to visit the Forest Silvi Culture office and gave us the contact details as good quality saplings were available there at subsidized prices. Visit to the KVK Centre was indeed a helpful one.
Physical General Meeting & Office Clean-up
This month has been a memorable one because after the pandemic this was the first time that all the SOGG coordinators, teachers, GFF Helps representative and our office staff for able to physically meet for the general meeting at GFF main office on 18th of May. The General meeting was extremely successful as we were all able to discuss, take feedbacks and and plan upcoming activities with the teachers of other SOGG learning centres as well. After the meeting all the attendees of the meeting decided to clean the office and we ended the day with a good lunch which Mr. Saom had kindly arranged for us. All of us were glad to be able to physically gather and take each other's suggestions and advices.