FREE Coaching on Civil Service Exam (Closing Program)
MID-YEAR EDUCATIONAL WORKSHOP FOR PRE-CHILDREN AND TEENAGERS: ECOSYSTEM
The GFF HELPS Philippines Team has been conducting activities even during vacation. We know that children only spend time playing with their phones or outside during these days. We also received some messages from parents if we have activities in their village because they want their children to attend. Aside from the Mid-Year Workshop, we have been visiting kids in their houses for reading activities. We also bring colorful books for younger kids. They expressed that they are always waiting for us if they have no classes. We are touched by their sincerity and we promised to visit them during the days that we are free.
The FREE Coaching for Civil Service has ended today. We got Sir Mike as our Math Guest. As you all know, we covered the 10 topics for 10 weeks. And one of the topics is MAth and it was composed of: Number Series, Work, Mixture and Probability, Motion, Ratio and Proportion, Number Related, and Logical Related, which were discussed and the solutions were explained and checked accordingly by our invited Mathematics Guest Coach, Mr. Mike Jamora on Saturday, August 5th. We have given certificates to some who had perfect attendance since week 1.
We are hoping that all of them will pas the examination this August 20th. Most of the participants said that , they are beyond blessed for the opportunity and the GFF HELPS Philippines served as a stepping stone to their careers.
"Creating opportunity to everyone."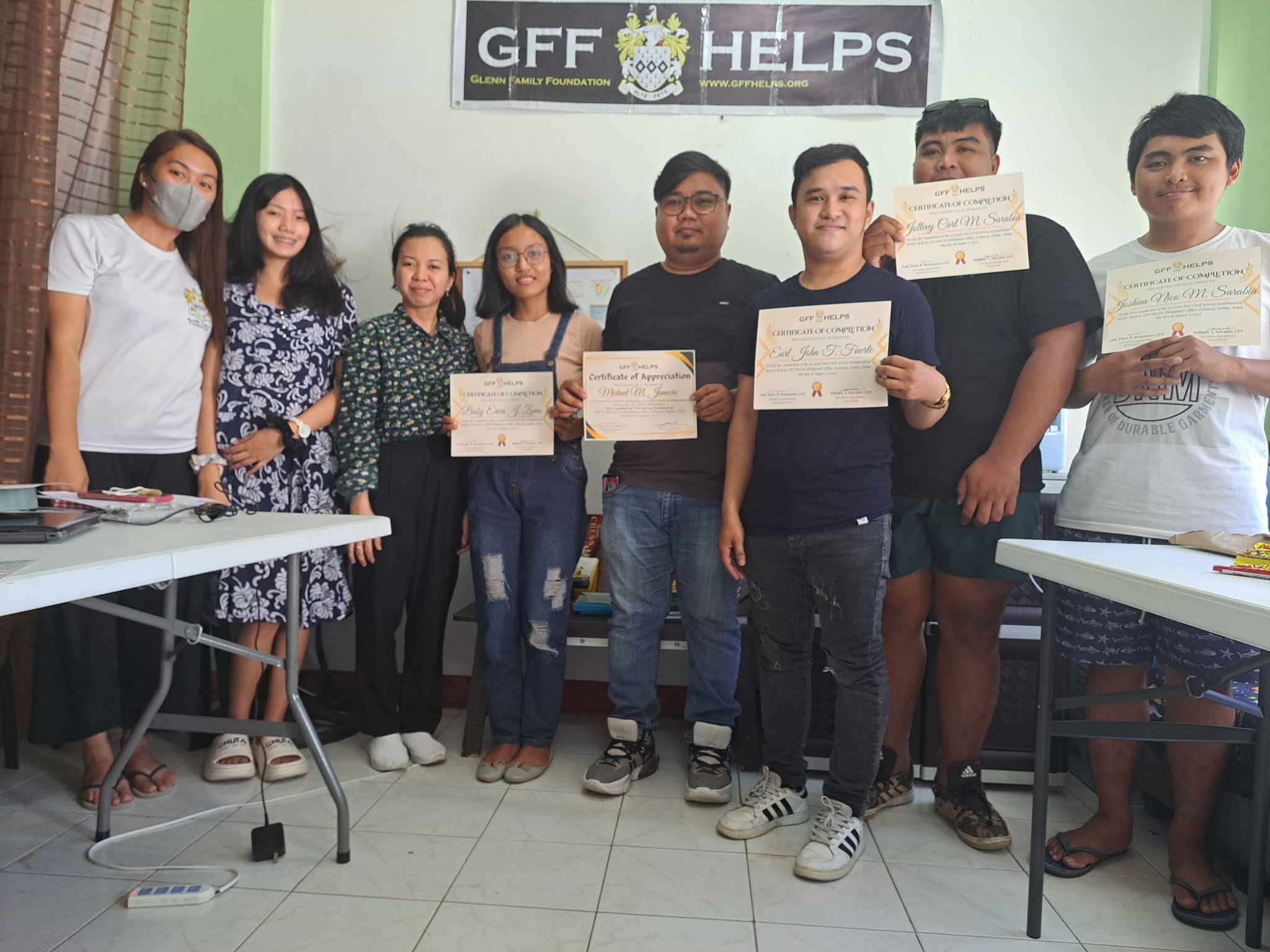 Seminars are often organized to provide valuable information, knowledge, and insights on specific topics to the community members. It can raise awareness about important social, environmental, or health issues within the community. It provides an opportunity for community members to interact, network, and build relationships with like-minded individuals, professionals, experts, and peers. These connections can lead to collaborations, partnerships, and mutual support within the community.
The GFF HELPS Philippines knows the benefits of seminars to small communities. This month, we are organizing Health Seminar about Diabetes and Hepatitis to Ati Community in Numancia Village and Haircutting seminar for out-of-school youths and adults in Banga Elementary School Alternative Learning System (ALS). For the Health Seminar, we went to the Rural Health Unit of Numancia and the Municipal Office of the Town Mayor to give the Letter of Intent. We met the Municipal Doctor, Dr. Levens, and he introduced us to his health workers. We did not meet the Mayor, but his Executive Assistant approved our letter. It was successful, and we have now our speakers and the date of the seminar. The Haircutting seminar preparation is ongoing. We already have our speaker, and the PPT is almost ready. We are yet to confirm with the teachers in the Alternative Learning System (ALS) in Banga our intent and available schedule. We are excited to facilitate these seminars and meet different persons.
"Bringing people together to learn, share, connect, and collaborate, fostering personal, professional, and community growth."

It is important for children to know the different living things within their community and how they contribute to the ecological balance. When they are aware of all the living things that live along with them, as well as their purpose, they will grow appreciation of their existence. This workshop was intended to be an outdoor activity where children will play a Scavenger Hunt game. But the venue is along the highway, and there are many cars passing by. To avoid any accident, we changed the flow of the activity so we could have it inside the venue that the Village Council provided. They watched a video about the ecosystem, identified the living and non-living things using the Scavenger Hunt worksheet and drew a place where living and non-living things exist. The children actively participated in the activities, and we rewarded them with some candies. Their parents were very supportive too.
"Dynamic and engaging learning experiences that promote skill development, problem-solving abilities, and personal growth."

MID-YEAR EDUCATIONAL WORKSHOP FOR PRE-CHILDREN AND TEENAGERS: ARTS AND CRAFTS
The goal of this day is to awaken the children's creativity as they individually make a paper plate snake, jellyfish, chick or any other animal that comes in their minds. They would be able to discover, display and share their hidden talents in crafts, coloring and designing their outputs.
LP, Stef, Intern Erica together with 3 teenagers volunteered to help with the cutting and coloring. of the young. It is important for children to learn to be creative and to beautify things on their own. Their creativity will bring colorful ideas into reality and it will also teach them to value the things that are useless, for example, the one-time use paper plate could turn into a beautiful paper plate snake and jellyfish. These crafts could be of replacement for cellphone games.
They will take away memories about their effort in doing arts and crafts, their patience will get tested as they learn to beautify their outputs. Those outputs will serve as a symbol of their creativity, hard work and patience. They could also share what they had learned to their siblings and other playmates.
"Enhancing the children's creativity and social ability."

MID-YEAR EDUCATIONAL WORKSHOP FOR PRE-CHILDREN AND TEENAGERS: SIGN LANGUAGE LESSONS
Making connections and making the other person feel included is one of the great way to show empathy especially to the deaf. Teaching the children from Muguing the Sign Language is a big help to the deaf community, especially that there are deaf living in the area. During our workshop, we invited Lovely, a young lady who became deaf at age of 8 due to accident. We taught the children Sign Language Alphabet, Sign Names, Greetings, Family, Colors, Transportation, Jobs, Appliances and many more. It is important for children to learn these for them to be sensitive enough when dealing to those people with special needs. Instead of ignoring them, the participants could develop a good relationship with them because they have learnt their language. On the other hand, the deaf would also be happy because they would gain new (hearing/speaking) friends who knew their language.
"Enhancing the children's empathy — a making an inclusive environment even to people who's hard of hearing."

Communication takes a vital role when dealing with the students, parents, teachers, the institution, and the community. As an Intern, I learned so many things throughout this journey. First, I got to visit the different places and meet different people. Second, I got the chance to know the wonderful, and intelligent students. Third, I got the opportunity to educate each one of them, expound their knowledge, and even teach life-learning lessons. It is so memorable and meaningful to know people, their status, passion, and views in life. I'm learning a lot from them too. The participating schools and the students of the Reading Workshop and Mobile Library together with the free workshop became an important part of our life and we're tied because of the bond and the relationship created upon staying with them. A parent once said, "Ma'am, we're so thankful because our son/daughter is now participating in class very well, he/she is not so shy and timid anymore, and they learned a lot from the lessons." Hearing this heartfelt and tearing message, I realized that because of the opportunity as an Intern, I received so much value and appreciation from the beloved parents that makes me an effective teacher. I would be forever indebted and thankful towards the GFF HELPS, Sir Owen, the GFF HELPS Philippines team for the support, help, and mentorship to become successful in this journey.