Image: Cleanup campaign on solid waste held on the 6th of June in honour of World Environment Day
The Problem
Kathmandu valley generates hundreds of tons of solid waste each day out of which more than 60% is organic, which could still be composted. But since garbage is not segregated, it adds to the amount of trash which poses a direct threat to human health and also the surrounding environment. Kathmandu does not have a proper waste management system or a recycling system currently in place.
Intervention to address the issue
In order to address this mounting issue of plastic waste, we began with raising awareness with the school students from the government school. Awareness and education, especially with youth, is a process which benefits from complementary sessions and discussions to ensure the students understand the process.  One of the projects we began with the students was creating 'EcoBricks' by filling disused plastic bottles with plastic rubbish. Once full, these colourful 'EcoBricks' made from waste that would otherwise end up in the street, can then be used to build benches, flowerbeds, and walls in the school.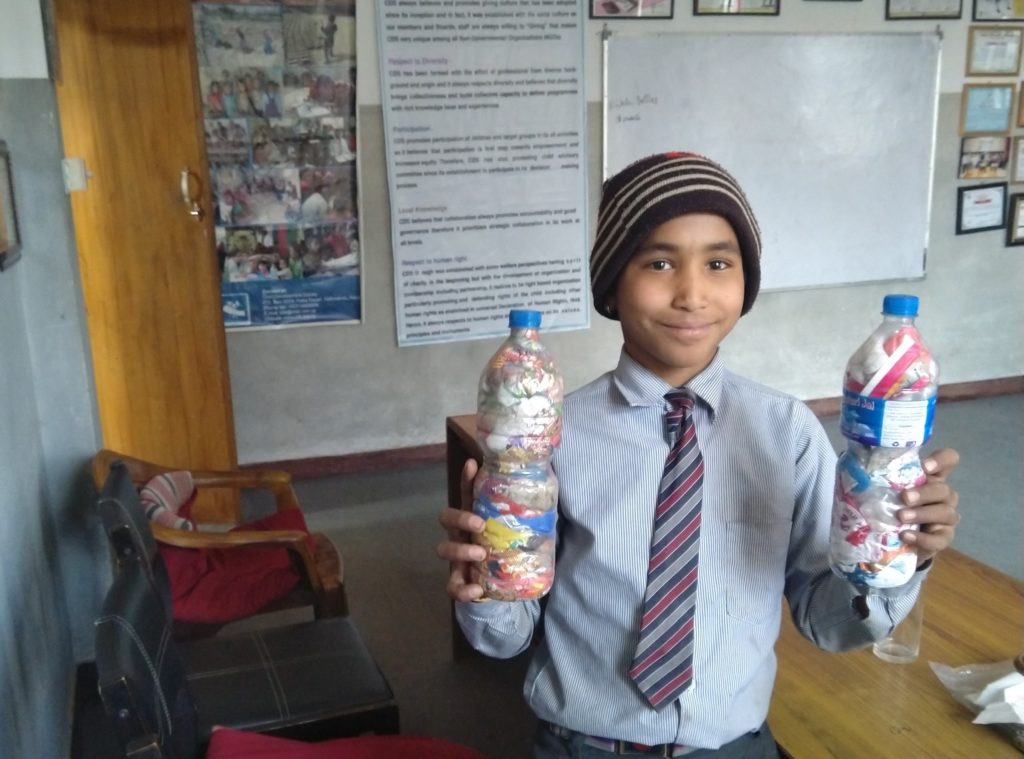 How we did it
We first started sessions on plastic waste with the government school students who had little awareness around waste. Continuing on from work the previous GFF volunteers had done in the school,  we were able to refresh the students memory and further motivate them to become environmentally conscious about their personal waste footprint. Initially, when eco bricking was taught to the students, many were excited and started collecting packets of chip, noodles, cookies, sweet wrappers, etc. to fill in the empty plastic water bottles which were discarded. Slowly, students started losing interest in it due to their upcoming exams. Post exams, again we put an effort on distributing empty plastic bottles to prompt the activity . We put up an announcement for a year level eco brick competition. Now, the students are competitively stuffing plastic waste into the empty plastic bottles during their free hours and lunch breaks.
As a follow up to the activity and awareness to the students, a workshop was organized by GFF volunteers on waste management in conjunction with Doko Recyclers. The workshops with Doko were in two parts. The first, was an incursion where a representative conducted activities and a video screening for the students. Afterwards, each student pledged to do their bit to keep their environment clean;  not burning plastic waste, not using too many plastic bags while shopping, not littering, and use a single water bottle while in school. It was great to see the students understanding how they can combat the societal problem of waste management in Kathmandu at their own level. The second part of the workshop was an excursion to a Material Recovery Facility (MRF) for a site tour, with 30 of the students and their principal.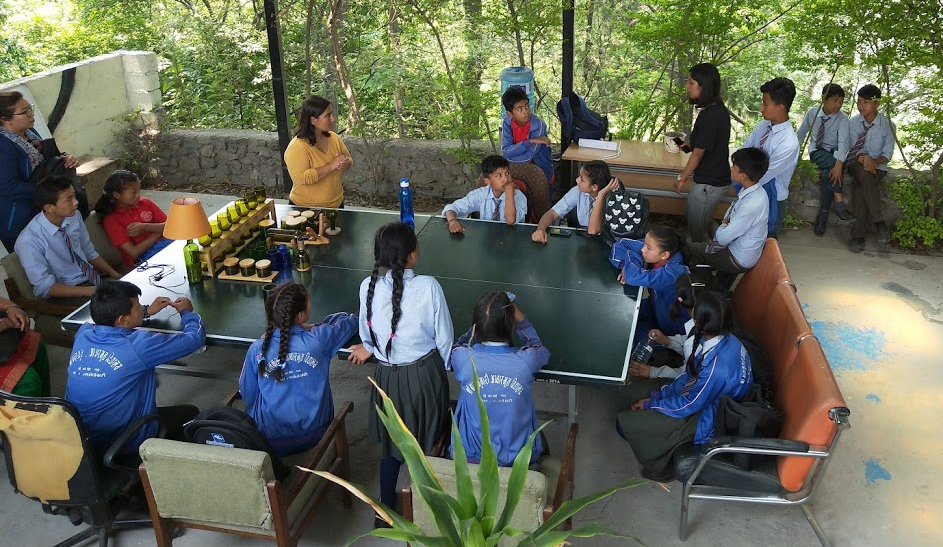 Image: Visit to the Material Recovery Facility of Doko Recyclers in Sanothimi, Kathmandu
Results
The students thoroughly enjoyed the trip to the MRF which showcased great initiatives such as upcycling, DIY with waste and gardening with waste recycled products. Now, the students have finished their submission of eco bricks and with those we will be able to construct a bench for the students to use in their school grounds.  One of the students from Year 7 has submitted 22 bottles! The winners will be rewarded with sports material such as footballs, rackets and dictionary to thank them for their work. A cleanup campaign on solid waste was held on the 6th of June in honour of World Environment Day. Students were encouraged to clear the waste around and outside their school campus which they enjoyed doing in a larger group.
Way Forward
Follow up and monitoring should be a rigorous process which will lead to more sustainable waste management within the school. The teachers should be motivated to get involved in the process and Environment Club could be formed for the continuity of keeping their campus eco-friendly.
These initiatives were conducted by GFF Representatives in Nepal, Sulochana Thapa and Shona Warren.