Skill development program helps students to be successful in the future job market. It is important to empower undergraduate with skill based training as the development of the economy depends upon them.
Under the guidance of the founder of shape the future program Miss Amali Kanchana, awareness program was conducted on 12th May for 6: 30 p.m. to 7.30 p.m. via zoom. The purpose was to make the undergraduates of SANASA Campus aware of the program.
The members of the GSK (Global Shapes Kandy) team conducted the program and Mr. Tharaka also joined the program. The program was scheduled to hold on five Saturdays in two sessions 74 undergraduates of SANASA Campus Joined the Zoom meeting. Forty five undergraduates are selected for the program. We have arranged all the necessary requirements to conduct the sessions.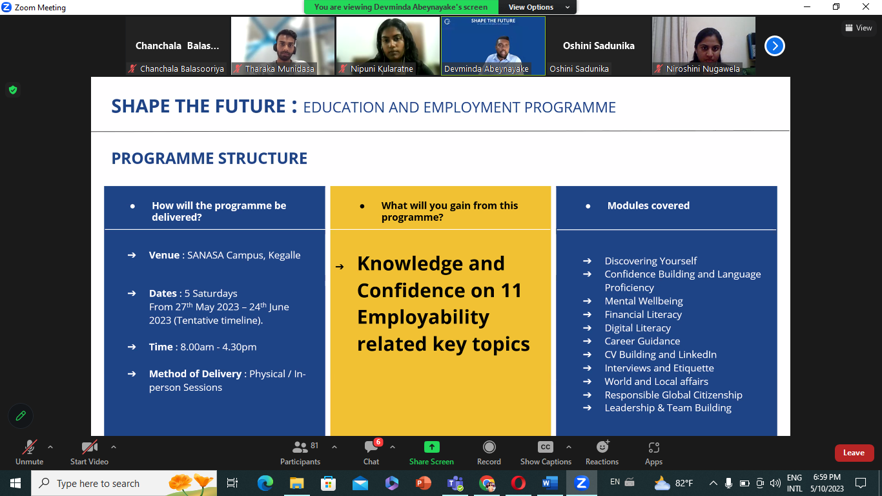 Introducing Susanthika Sumudumali and Chanchala Balasooriya as GFF HELPS SRI LANKA REPRESNETATIVE
Susanthika Sumudumali
GFF HELPS Representative Sri Lanka
I am Chanchala Balasooriya a final year student at SANASA Campus and completed the GIS and Remote Sensing Diploma at university of Kelaniya. As an undergraduate, I am interested in working for a reputed organization and enhancing my skills.
I am committed to dedicating my time and energy to support the community under the mission of making a positive difference in people's lives. Becoming a member of the Glenn Family Foundation will be a perfect fit for me.
I'm Susanthika Sumudumali, an Undergraduate of Regional Science and Planning in Sanasa Campus, Kegalle, Srilanka, qualified Psychologist, and Counselor as well. I was a trainer in Work-Based Learning English for Village Program (Stage 1) in 2019. I am a person who likes to help others, interacts with the society in a very friendly manner, makes meaningful contributions to the community and is already engaged in such activities.
I embarked on my career journey with the Glenn Family Foundation, driven by a strong passion for project implementation and management. My dedication lies in helping others and finding solutions to their problems. I place a significant emphasis on community interaction wherever I work or engage, aiming to provide support and assistance to individuals using my passion as a guiding force.
Working with the Glenn Family Foundation HEPLS, my goal is to serve people and empower communities by encouraging individuals and implementing educational programs. I aspire to create a wave of inspiration and motivation that will resonate with future generations. Given my fervor and commitment, I firmly believe that I can bring substantial value to the organization.
Art Sessions at "Yasuko Ono" preschool
As usual art session at Yusuko ono preschool was continued. Students colored a given picture of a rainbow according to the instructions. Coloring pictures is a fun and educational way to engage students. It allows children to express their creativity by choosing different colors and experimenting with various combinations. It encourages them to think outside the box and explore their imagination. These skills are important for activities like writing, tying shoelaces, and using utensils.
Coloring a rainbow provides an opportunity for children to learn and identify different colors. They can practice naming and associating colors as they fill in the different sections of the rainbow. Coloring activities can enhance a child's ability to concentrate and focus on a task. As they color within the lines or follow specific instructions, they develop important cognitive skills like attention to detail and staying engaged.