In December last year, Violet Ge of Auckland University left for her birth place, Hainan, to pioneer a new GFF HELPS programme. With the school holidays approaching she was eager not to lose out on any time and so put forward a proposal to run a three-day Student Camp at Wulian School. She used her local connections to find where to host these activities, and managed to recruit a team of students to join her. Within no time they had their activity outlines for the three days and had created and translated professional GFF HELPS marketing materials and started a WeChat social media platform.
*Photographs by Yu Chen
The camp consisted of the following activities:
English language tutoring, using participatory methods including games and songs to engage students. English is important in areas like these to enable students to participate in the global economy and find better job opportunities
Debating: this was open for every student in the school. They taught them the rules of debating and how to use critical thinking skills to enhance their arguments. Some of the discussion topics were "Does being a vegetarian really help our health?" and "Can we judge students by their grades?" Many of our GFF Representatives have noticed a large difference in the way students learn in China, Vietnam and the Philippines; they tend to act as passive recipients of information and are sometimes reluctant to state their own views or preferences. They have identified opportunities to introduce critical thinking skills into their work to see how the students respond to this new way of engaging.
Personal development workshop: They invited a mental health professional from a nearby school to lead a workshop on mental health. They talked about what it means to feel unhappy and how seeking help from a professional can be useful. They also spoke about their wishes for the future and shared these in picture format with the group. Being open about mental health issues and removing the stigma around seeking help is important for youth.
Sports training: They ran physical training sessions to enhance physical ability, consisting of running, jumping and stretching. In the basketball session those volunteers with sports backgrounds provided formal training around different dribble methods and reverse and underhand passing. They also taught the students Frisbee which they enjoyed.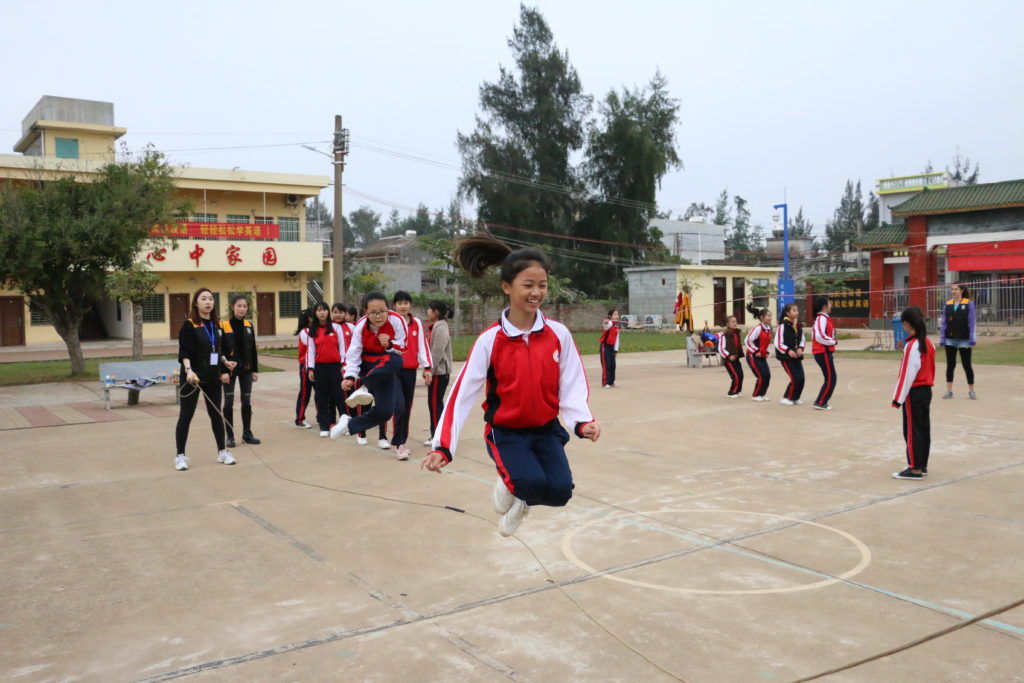 Origami: Students learned how to make rabbit shoes out of paper. This was a fun teambuilding activities and they children loved the opportunity to do something other than traditional school work.
We thank Violet for setting a good introduction into the community for GFF HELPS and for establishing some excellent partnerships. We are excited to see how she moves forward and what projects she will initiate with the strength of her new team. We thank all the volunteers that assisted Violet and GFF HELPS: Joshua Crosbie, Thiago Ding, Celine Cai, Kira Cebrián, Ruipeng Gao and Yu Chen. Here is what some of them had to say:
"First of all, I am very grateful to the GFF Foundation for providing us with support so that I can do something for the kids which lives in poor areas. This is the experience I have never had before. During the course of three days, I am not only shared my knowledge and love with them. I also learned a lot from them. These children are really lovely. And they do need more attention from society. It will be a long way to go. The most important thing is providing Continuous help. Only sustainable development program can really help those in need. That's the reason why we all decided to return Lingao in a year. Anyway,I am so glad to have such an opportunity to help others. This experience is very valuable to me as well." – Ruipeng Gao
"It is my first time to participate in this kind of volunteer activities, which has extraordinary significance for my life. I felt the simplicity, enthusiasm and eagerness of the local pupils. During these three days, our team cooperated actively and helped each other. Every night, we summarised our work during the day to improve our teaching the next day. What moved me most was that although we only stayed with the students for three days, they had already developed deep feelings for us, and they were sad that we left. I believe this is a recognition of our work. The teaching methods and courses we teach have brought a lot of fun and interest to students. Here, there is no disturbance, only the sincerity between people. As a photographer, there are too many beautiful moments and unforgettable memories, all frozen in the photos. I hope these beautiful memories will accompany the growth of the students." – Yu Chen
"This is the very first time that I could lead a group of volunteers to one of the poorest villages in Hainan. As a representative of GFF I feel so honorable to do this work especially in Hainan, where my hometown and my family are. "Beautiful Soul Association" 海南省美在心灵大学生志愿支教协会 has been given me a huge hand on organizing this project at Wulian primary school. The school Principal Wang and Principal Chen have been so supportive to our work. I can't be more thankful to these people who are so virtuous and charitable, and these people made me have the confidence that the philanthropy in Hainan would finally be well developed. I have to say that Wulian Primary School has a really good quality of education in comparison to the other schools in Wulian Village. The students are so lovely and super welcoming us to come. They have the enthusiasm to learn from the outside world, they are not fear of the foreign people and they are curious about everything. I believe if they can get a better education, they must have the ability to be very knowledgeable and talented. However, I also find out that even the students are so hard-working in their studies, there still a huge gap between them and the students in the big cities. The differences are mainly reflected in the scope of knowledge and the vision of the world. Therefore, I will keep helping the students who are in those poor villages, give them the hope for future growth, to make them believe that everyone has the chance to win the life." – Violet Ge, GFF Representative, Hainan
As the GFF team, we thank you Violet for being such an extraordinary GFF Representative. We are so lucky to have you.