I am a graduate of Environmental Science and currently reading for my MSc. I am passionate of project implementation with a sustainable approach. Before joining with Glenn Family Foundation, I was working in an apparel factory in where I have realized the importance of sustainable approach of project implementations. I am a member of Rotaract Club of University Alumni from where I developed my community management skills. Through my current academic pursuit, I apprehend that for sustainable development we need to satisfy human needs while sustaining the capability of natural systems to provide natural resources for the economic and social growth.
In a develo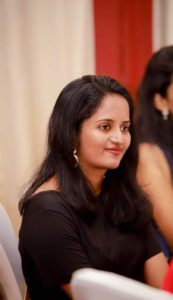 ping country such as Sri Lanka which is a biological hotspot we need to focus on economic growth and livelihood development while sustaining natural resources.
ABOUT GFF Sri Lanka
GFF HELPS Sri Lanka empowers vulnerable communities in collaboration with SANASA Campus based in Kegalle, which is a Non-State co-operative sector university that offer certificate courses, diplomas and degrees in fields related to Science, Business Management, Information Technology, Languages and Education. SANASA Campus has been developed as a community-based university following the
participatory and community development principles and practices of the SANASA Movement; which follows a cooperative philosophy among its membership and to the community with the goal of uplifting communities in a way that encourages local empowerment and local ownership. Since the beginning of the partnership in 2019, GFF HELPS has successfully conducted number of projects such as English for
Village program for school children in the area, IT skills development project which resulted in establishment of an IT department for the underprivileged youth, Shaper Buddy programme which is dedicated to improve the employability of undergraduates in the SANASA Campus and first-aid training workshops.