GFF Helps philippines collaborated with
RED CROSS PHILIPPINES for
First-Aid
Training
The GFF HELPS Philippines is delighted with the successful result of the 2-day Occupational First-Aid and Basic Life Support-Cardio Pulmonary Resuscitation with Automated External Defibrillator (BLS-CPR with AED)Training 2022 by Red Cross Philippines Aklan Chapter, headed by Mary Joe B. Galeon, the Chapter Administrator in La Felicidad Granja Farm, Lapnag Banga, Aklan last July 14-15th, 2022.
The twenty (20) participants of the said Training came mostly from our GFF HELPS Aklan Workers' Association Members and School Clinic Teachers who have elderly, children and infants at home and have students whose schools are located far away from the town proper. Their location hinders them to rush in the hospital just in case accidents could happen. The training suits every participants since no one knows where and when the accident could happen. As they were trained as First-Aid providers, they could perform and help the victims while waiting for the Emergency Response Teams to reach them. The training provided them enough knowledge on Bandaging, Carrying the patients, CPR,  and many more.
As Mr. Nelson Tulio has quoted: "The training adds up to my knowledge as a Physical Therapist in town. The Certificate of Completion that I have received from Red Cross Philippines also serve as a proof and people won't question my credibility in performing First-Aid Training."
"Providing
safety needs for our GFF HELPS Aklan Workers' Association Members"
These are the Head of the families who benefited the First-Aid Training, from left to right: Mr. Simon, Mr.Tulio, Mr.Rebano, Mr. Villanueva

Reading Workshop & Mobile Library
The session of the Reading Workshop with Barrera siblings and their cousins continues. This small group of kids continues to progress, and we always praise and encourage them to do their best. All of them were recognized by their school as achievers and received awards. We are happy to see their growth as well as their parents. We make sure that they receive simple prizes like stickers and small toys after the session. They would always look forward to these prizes and do well during activities. We also developed a strong bond with these kids that they would always give us a hug when we arrive and leave.
Enhancing the opportunity of access to library resources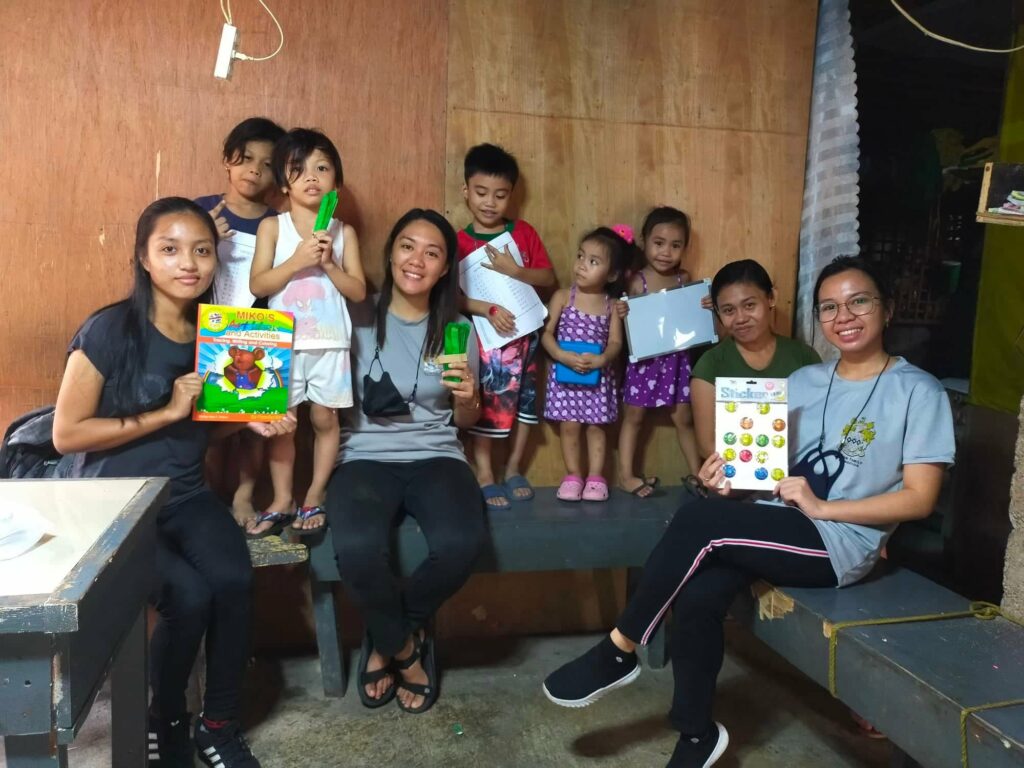 Online Storytelling
"Gives students the power to express themselves through multi- literacy modes."
Blended learning has been introduced recently to help the students cope with modular challenges since the pandemic started. In this kind of system, students learn via electronic and online media as well as traditional face-to-face teaching.  We are happy to see that most students allocate time to join our Online Storytelling session despite strict schedule. Most of them were recognized recently by their school because of their exemplary performance. We did not forget to include their pictures in the presentation as our congratulatory gift for them. We are proud that the kids associated with our projects were talented and achievers. As we look back, these kids have been with us for more than two years. We can see how much they grew. In our eyes, they are still the same kids that like to read stories and colorful pictures.
VEGETABLE GARDEN PROJECT – PHASE III
The GFF HELPS Philippines' Vegetable Garden Project has always been part of  the daily lives of the beneficiaries in the different villages in Banga Town. As we got to visit the participants' houses on the later weeks of July, we were able to see the growth of the crawling vegetables like squash and string beans. Our beneficiaries are very responsible and hard working in making bamboo fences that would serve as crawling support for these vegetables. They also tend on their vegetable plots most time of their days. Some produce were sold and some were consumed by their family. Junlen, spent almost of his mornings and afternoons in his ricefield that he turned into a beautiful vegetable garden with the seeds given by the GFF HELPS PH Team.

"Continuing
the "Healthy Meals: Healthy Bodies and Minds" aim
This is LP together with Junlen while he is maintaining the cleanliness of his vegetable garden in Agbanawan, Banga, Aklan